This is an instruction for using some teacher-related functions on longlongart.org website. Only teachers and manager can access those pages for managing class information, and organizing student class notes/works.
When a teacher, or manager, log in with user credential, and go to member portal, some teacher-related buttons are listed: "Class Notes Form", "Class Notes Review", and "Class Review".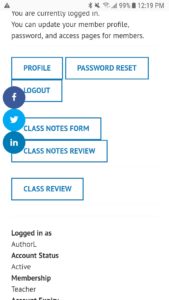 From "Class Review" button on member portal, a new page will open to show a list of existing classes. From the form, a teacher can click on "Change" link to change the class' active/inactive status. From the "Edit" link, a form opens for editing this class' information. From the "Add a New Class" button, a empty form opens for entering information for a new class.
From "Class Notes Form" button on member portal, a three-step form opens for entering student class notes information and upload pictures of student works. The first step is to choose / enter class name, date, and teacher name.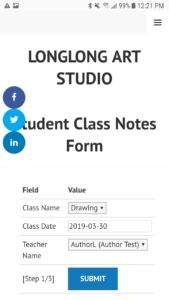 After submitting the first step, a second step page opens for entering student information. There are four ways to enter student information. From "In class", a student with previous notes with this class can be chosen. From "In studio", any student in the studio can be found. From "In guest", a list of guest member can be chosen, and the guest member will be changed to student member status. The "New member" area is for the teacher to enter a desirable username, as well as first name and last name, for a student. As long as the username was not taken by another member, a new member account will be created for the student with a password "longlongart". The student should remember this username, and log in the member's account with the password above to complete profile and student registration form, and change the password.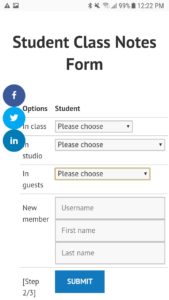 After submitting student information in step two, a third step form opens for the teach to enter notes / comments for the student in the class. The class description was pulled from the class information table. The teacher can add more description if it is needed. The "Attachment" provides a button to take a picture, or selecting an existing picture file, from a device as the student's work related to this class.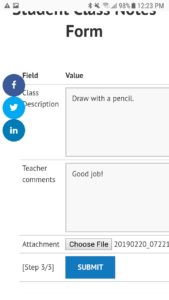 From the "Class Notes Review" button on member portal, a new page will open to show a list of existing student class notes. From the page, a teacher can change the active/inactive status of the notes. From the "Edit" link, a form opens for the teacher to edit the information entered from the "Class Notes Form".